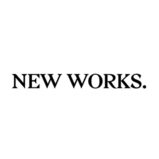 New Works
Brand for Les eines.
New Works was founded by Nikolaj Meier and Knut Bendik Humlevik out of a desire to create a design house where design is created with care and intention, and where there is room for creative experiments – a place for new works. While Nikolaj juggles numbers and day-to-day operations as CEO, Knut is responsible for the very special expression in the role of Creative Director.
Together with a small, dedicated team, they have set out to curate a collection of special, but accessible, objects for daily life. It is from this point of view that they shape the continuously evolving history of New Works.