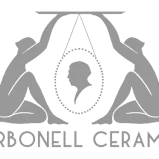 Carbonell
Brand for Les eines.
Carbonell is a family owned company founded in 1935 in Valencia. Where traditional artisan ceramics are made entirely manufactured by them, from the modeling and bisque of the pieces to the decoration and final enamelling, The make sculptures, unique pieces, crockery, cups, bowls, personalized mosaics… And all this is done by a team of 6 family members, all with studies related to design, fine arts and crafts.
Shop the brand
No products were found matching your selection.